Roll over image to zoom in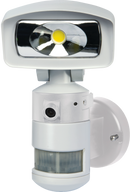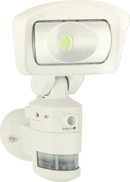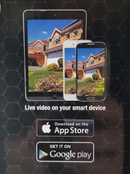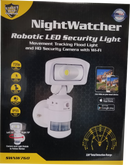 Description
The NightWatcher SWNW760 by Streetwise Security Products uses patented robotic lighting technology to protect your property by causing a super-bright security light to lock on and follow an intruder.
FEATURES:
Wi-Fi Connectivity: Connects to Wi-Fi network allowing for remote monitoring of video via a smartphone/tablet
Removable Memory Card: Videos are saved on the included removable 4 GB memory Card (up to 32 GB max). The 4 GB card can record 200 events.
210 Degreeº Rotation: Light head moves left and right for a total of 210 degrees (symbol) of illumination and camera coverage
Optional Audio Warnings: When motion is detected you can select either a barking dog sound, doorbell (chime), or record two 10 second messages (default is set to silent)
HD 720p Color Camera: Each time motion is detected the camera points in that direction and automatically records 20 seconds of HD quality video.
Intelligent Motion Detectors: Smart Sensor determines where movement is occurring within 3 independent detection zones and directs the light toward the motion.
Robotic Monitoring 24/7: 

When motion is detected the light will lock on and follow an intruder's motion, the camera records the video, and you can view it on your smart device.

Lights up the Night! 

NightWatcher incorporates the latest in LED lighting technology to produce a super bright light. The energy efficient 16 watt COB LED produces 1200 lumens which is just as bright as a traditional 150 watt halogen bulb.

Remote Viewing from Anywhere: 

Ever wonder what happens outside your home or business when you are there? Now you can monitor your property via live streaming video from anywhere in the world. You can also turn on the light remotely via the APP.

Energy Efficient Exterior Lighting: 

In addition to security lighting, NightWatcher conveniently lights up your property when you return home at night. The light turns off when there has been no motion for 3 minutes.

Keep an Eye on your Family: 

With NightWatcher you can be half way around the world and know your family is safe. You can see your children playing in the yard or know when they arrive home safely from school.

Is it safe to open your door? 

When NightWatcher is installed near your front door you will be alerted when someone approaches the front of your home and you can see it is safe BEFORE you open the door.
This model also features a high definition security camera that starts recording whenever motion is detected. When connected to your wireless internet it can alert you whenever motion is detected so you can view the live video on your smart device.



The next generation NightWatcher is here! Model SWNW760 incorporates the latest in LED lighting technology to create a brighter light. Previous generations used 8 one watt LED's to produce 850 lumens. This latest version uses one super bright 16 Watt COB LED to generate 1200 lumens!



The NightWatcher has a patent pending motion tracking feature built into an outdoor flood light. Traditional motion activated lights just light up when motion is detected; the NightWatcher's Robotic Light will lock on and follow an intruder's motion across three separate detections zone. Imagine the intruders surprise when a bright light suddenly turns on and follows his every move across your property. He will realize that your property is guarded by a sophisticated security system and will go in search of an easier target. In addition to the high powered flood light this model features a high definition (720p) camera that will record and store video on the included SD card for use in criminal identification. When connected to your Wi-Fi network, you can use the free APP to alert you whenever motion is detected and view live video on your smart device.
CONTENTS
Nightwatcher Robotic LED Light w/HD Camera & WiFi

Instructions

Mounting Hardware

Micro SD Card
Payment & Security
Payment methods
Your payment information is processed securely. We do not store credit card details nor have access to your credit card information.
---
Security