Roll over image to zoom in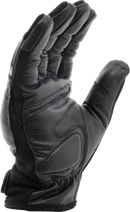 Description
High quality Lifetime Warranty leather gloves not only can they protect your from an attacker, they are great for wearing while cycling to protect from road burn in case of an accident.
Includes:
Lifetime Warranty - 

Quality Double-Layered Genuine Goatskin

One Size Fits All - Small & Large Hands

SAP Gloves Improve Your Punching Power

Gloves Effectiveness Similar to Brass Knuckles

Reinforced with Steel Shot Inside Knuckle Area

SAP Gloves Are Ordinary Looking Wear in Plain Sight

Multiple Uses Include:

Personal Self-Protection

Driving, Motorcycle Riding

All-Terrain Vehicle Riding
Baseball Batting - Increase Bat Speed
Tactical Military Purposes
Punch Bag Workout
Our SAP gloves are a self defense weapon which helps to improve your punching power and also protects your wrist and forearm. Almost similar to the effectiveness of brass knuckles, these SAP gloves reinforce your fist with steel shot inside the knuckle area. They are an ordinary looking glove that you can wear casually in plain sight without causing suspicion, and can protect yourself if needed. Also, great for wearing while on motorcycles to protect from road burn in case of an accident.
 Features:
6 oz. of Steel Shot: 

This high quality pair of SAP Gloves have 7oz of steel shot strategically sewn into the knuckles to enhance punching power and protect your knuckles from impact.
Genuine Goatskin Leather: Double- Layered Genuine Goatskin Leather palms for maximum durability.
Breathable Spandex: For comfort & elasticity to fit your hands perfectly. 
Additional Padding: Protects your fingers.

Velcro Strap:

Loop Wrist Closure with velcro for secure fit.

Design: The look and feel of ordinary gloves.
Lifetime Warranty: The SAP Gloves are made of the highest quality components and comes with a lifetime warranty. See the enclosed instructions for complete details.
Contents:
Left & Right Police Force Tactical SAP Gloves

Satisfaction Guaranteed Certificate
Payment & Security
Payment methods
Your payment information is processed securely. We do not store credit card details nor have access to your credit card information.
---
Security