Roll over image to zoom in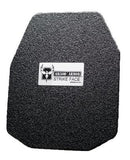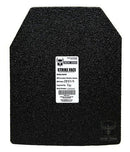 Description
Where it all began, AR500 Armor® Level III patented ASC Body Armor. A revolution in the armor industry by combining guaranteed performance, durability, and value. Backing down from no challenge, we've become the most independently tested, reviewed, vetted, and validated body armor manufacturer in the world by our peers. 
AR500 Armor® Level III Body Armor Specifications:
Level III rifle rated for 7.62x51 M80 Ball (.308 win) @ 2,780 fps

Independently tested to NIJ 101.06

Patented Advanced Shooters Cut (ASC) (on some models) in thin .26" profile

Most independently reviewed and tested body armor in the world

AR500 Armor® high hard specially treated ballistic steel core construction

Rigorous quality control standards for consistency and performance

Rugged and stress fracture resistant

Minimally invasive forming process on Multi-Curved models preserves armor integrity

20-Year maintenance free shelf life

Unparalleled Multi-Hit and stand-alone performance

Outlasts Ceramic, and Polyethylene Body Armor

PAXCON abrasion and chemical resistant coating

Build-Up for spall and fragmentation mitigation

Made in the United States of America!

SKU:3+8x10

Our Level III armor serves as the flagship model in our line for those who desire rugged and reliable armor. Capable of defeating 7.62x51 M80 NATO Ball (.308 Winchester) at a velocity of up to 2,780 feet per second. Independently tested in accordance with NIJ 0101.06 through Oregon Ballistics (OBL), and H.P. White Laboratories.

Weight (+/- 5%for PAXCON coating):
Looking for protection against high velocity threats such as M193? Look into our level III+ body armor, which is special threated tested to M193 at velocities up to 3,100 feet per second. 
Payment & Security
Payment methods
Your payment information is processed securely. We do not store credit card details nor have access to your credit card information.
---
Security